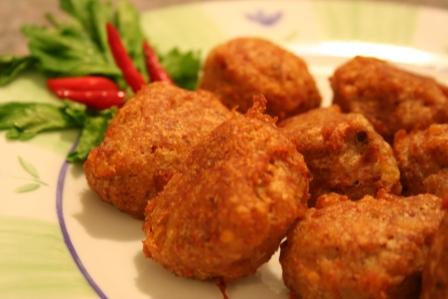 The name "Perkedel" is derived from Netherlands.It's name "Frikadel"and in Indonesian name we called it "Perkedel".The dish shows the influence of the Netherlands in the art of Indonesian cooking. In the history of the Indonesia, Netherlands was colonized my country (Indonesia). So this becomes fused with cuisine culinary Indonesia.
Original of Perkadel made from mincemeat and then fried, but in Indonesia Perkedel made with potatoes with a litle mincemeat.
And Now many kinds of Perkedel, some made of tofu, potatoes, Corn and tempeh. and now we make the original version. Perkedel from potatoes.
So lets make it, it's easy
Ingredients:
1/2 kg potatoes
1 egg
1/2 liter of cooking oil
100 grams of ground beef
Seasoning
pepper to taste
1 1/2 tablespoons salt
4 Garlic
How to make potato cakes:
Wash the potatoes and boil until cooked.
While waiting, puree Seasoning : garlic pepper and salt.
Once the potatoes are cooked, let it cool and then peel the skin. puree
Combine with Seasoning and meat.
The shape of the circle slightly flattened.
Beat the eggs, then the dough flat were covered with eggs
Fry until Golden Brown.
Serve with chili Sauce